ABOUT


After a quarter century of pioneering work in modern and contemporary Arab art, with Agial Art Gallery playing a central role in putting Beirut back on the map of Arab art, it was time to meet the new challenges, and reach out beyond regional arenas.


Three years of planning and creative architectural remodeling design work, and the new Saleh Barakat Gallery was born, to commemorate the XXV anniversary of Agial on 25 May 2016, in one of Beirut's emblematic historical cultural locations: The former Cinema Clemenceau – later Masrah Al-Madina, that is now transformed into a truly modern art gallery by today's best professional standards.

Agial Art Gallery, established in Beirut in 1990, is one of the leading destinations for modern and contemporary art from Lebanon and the Arab world. As a pioneering platform, Agial is showcasing a broad spectrum of regional art, from the most established artists to promising emerging artists, alongside retrospective exhibitions. The permanent collection of the gallery is host to an important historical survey of Middle Eastern art, having incubated and witnessed the profound transformation of artistic practices in one of the world's most dynamic regions.


Beyond the exhibition space in Ras Beirut, Agial is a global presence through participation in art fairs, off-site projects and publications, highlighting the role of the gallery in the promotion of Arab art. Representing artists across different generations, Agial is active in primary and secondary markets, with a roster of artists that has been well placed in institutions and collections, both public and private. Yet the gallery remains an open space for critical debate, cultural dialogue and cutting edge practices.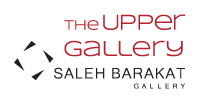 Located on the ground floor of Saleh Barakat Gallery, The Upper Gallery hosts an ongoing series of rotating displays and small-scale exhibitions. The program of the Upper Gallery is intended to spotlight projects which are experimental or smaller in scale, as well as overlooked practices of modern and contemporary art.