EXHIBITIONS
30 YEARS & MOVING FORWARD
1991-2021
30 Years & We Are Moving Forward

Agial has been hosting and publishing works by some of the most exciting and relevant artists from Lebanon and the Middle East for three decades. In celebration of the passing of those three decades, Saleh Barakat Gallery is holding an exhibition through August, 2021 starting from today. On display will be part of its collection of artworks, books and catalogues it has published or assisted in producing, as well as artefacts of the institution's history. This exhibition is not a retrospective. It is an invitation to look back on the history of this institution, and the history it was part of. It is an announcement of this institution's future.

Saleh Barakat, Agial's founder, has often chosen to keep one work of art from each show that Agial hosted or participated in. Much of these works will be displayed across the gallery space from oldest to most recent. The audience will be guided through the collection by the original postcard invitations to the very exhibitions from which these works were collected.
The publications, catalogues, and artist's books that were produced during and separately from these different exhibitions will also be displayed in chronological order, in a manner similar to that of the paintings and postcards.
In this exhibition, these postcard invitations do not only guide the audience through the paintings but are also a few of the many aesthetic objects being displayed. Agial has digitized, archived and preserved much of its records. For the first time, Agial's archive of its own history will be open to the public. The audience will get the chance to see how the institution's aesthetics, identity, preferences, and mission has changed since its genesis in nineteen ninety-one. Posters, catalogues, publications, photographs, souvenirs, newspaper pages, as well as documentary records will all be on display at the exhibition.

30 YEARS & MOVING FORWARD
1991-2021
10 - 31 August, 2021
Afaf Zurayk
WHITE


Moving to touch the ether with a tenderness gained from years of living softly, I become aware of the ethereal and understand my misty presence within it. Painting Time gently, I reaffirm my trust – limitless, endless and white. -Afaf Zurayk

I was born and grew up in Beirut, Lebanon, the third of four daughters in a closely knit, highly academic family. Always an introvert, I was introduced to art at a very early age. In painting, I discovered a language that gave expression to my thoughts and feelings and conveyed their inner dialogue beyond words. Preparing myself to paint, I spent time in nature, both in solitude and within community, and reveled in its mystery. This enabled me to see from within and to communicate in what connects rather than what separates us.
During the civil war in Lebanon, I experienced wrenching fear through the destruction of the life and the self that I knew. Yet, I was gifted with grace and love in the midst of overwhelming violence. In time, my belief in our intrinsic humanity deepened as I came to understand how to calibrate terror and grace—dark and light. I continued to paint from within as I charted an inner map of layered contradictions that illumined
my life for years to come.

With the war still raging, I left Lebanon for Washington, DC . There I built on my experiences and reflections of connection and disconnection, and honed my skills at transparency. I coupled painting with writing to express feelings of both agency and belonging. I shaped a new sense of self and began to appreciate meditative solitude as a way to till my ground creatively. The privilege of being in and with nature was restorative and generative. My poetry emerged from a wellspring of love, and I grew.
I now live in Beirut and remain quietly introspective despite so many political and social upheavals. I center my art in the riches of our essential humanity with respect for our ability to correspond with and imagine our inner truth. Painting and writing in loving awe, I remain within, crossing those passages that connect us in kindness, gently.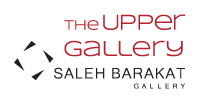 Afaf Zurayk
White
16 September - 16 October, 2021

Vanessa Gemayel
Ville rouge et nuits en dentelle
9 September - 2 October, 2021
Vanessa Gemayel
SI LES MAISONS ETAIENT DES BATEAUX, LES TOITS SERAIENT DES VOILES
Text by Jean-Dominique Jacquemond

La Peintre Vanessa fait tanguer les maisons, gonfler les toits comme des voiles… et les tuiles deviennent des poissons volants.
Dans les tourbillons du bleu outremer, le rouge couleur grenade mûre, les routes comme des digues fracassées se perdent dans le vert abyssal.
Coloriste d'instinct, elle revêt les façades couturées, maquillées de suie et cendres d'habits chatoyants agrémentées de pierreries en verre soufflé autour de fenêtres en deuil.
Dans cette nouvelle série, le ciel est un lourd drap semblable aux portières devant la maison d'un défunt.
Le soleil est une cible citron vert qui tourne à l'orange, la lune une faux fauchant la voie lactée, la lumière, une explosion sous forme de pluie de javelots.
On ne peut s'empêcher de penser aux ciels de Van Gogh et à la « Nuit Etoilée ».
Les corbeaux ont survolé les champs de blé.
Vanessa, le souffle poétique fait déraciner les épouvantails ……
Vanessa Gemayel, born in Paris – 1985, is a Lebanese-American painter, DJ and writer. Her latest short story is published in the book 'The Circus' by Diptic Design Agency (Paris, 2021), alongside the drawings of Dominique le Tricoteur. One of her paintings is part of the J.D.Jacquemond fund at the Anatole Jakovsky Museum in Nice, France. She is currently represented by Agial Art Gallery and has completed 5 solo shows in Lebanon as well as participated in numerous group exhibitions.

Vanessa Gemayel, Libano-Américaine, née à Paris en 1985, est peintre, DJ, et écrivain. Son dernier texte est publié dans le livre Le Cirque, où figurent les dessins de Dominique le Tricoteur – Diptic Design Agency (Paris, 2021). Une de ses toiles fait partie du fonds J. D. Jacquemond au Musée Anatole Jakovsky - Nice, France. Elle est actuellement représentée par la galerie Agial et a réalisé 5 expositions personnelles ainsi que participé à de nombreuses expositions de groupe. (Bio edited by Liam Sibai)