EXHIBITIONS
Ziad Abillama
Elles sont telles le triomphe d'un bâtiment compact homogène imposant.
Une architecture totalitaire.

Voila l'Un, le souverain, le chef. Voyez comment il se propose dans toute sa majesté. Son
assise se confond avec la maîtrise de son univers. Il semble là, planté sur sa terre pour l'éternité.

Face à l'infirmité et la fragmentation, voilà qu'il 
apparaît entier, mais sa santé et sa vulnérabilité ne le 
préoccupent pas. N'est-il pas là, entier, triomphal,
érigé pour toujours? Il fait tableau.
La camera lui renvoie sa totalité.
Ziad Abillama is a visual artist. He attended the Rhode Island school of Design, Amherst College, and Académie Libanaise Des Beaux-Arts (ALBA). Recent exhibitions include the solo show The twisted wing of the Airplane King at Saleh Barakat Gallery (2017); Post-Fascism, Post-Imperialism, Post Ziad at the artist's studio in Dbayeh (2013). La Défaite de L'exotisme at the Faqra Club (2008), Reconsideration of the Shortcomings of Lebanese Nationalist Ideology / Reconstruction as the Unsettled Debt to Modern Western Philosophy at the Salon Des Artistes Décorateurs (Beirut, 1996), Sanayeh the Impossible Community (Beirut, 1995), and The Political Unconscious of Exotic Travels (Berlin, 1996) are among his notable public appearances. He participated in the contest for the reconstruction of downtown Beirut with architect Bernard Khoury (1992), and has also had numerous exhibitions of sculpture - no politics.

Ziad Abillama
20 January - 19 February, 2022
Jack Dabaghian
The Upper Gallery invites you to discover "Sentinels", a wet plate collodion photo exhibition and book launch by Jack Dabaghian on Thursday November 25, 2021 4:00-7:00pm.

Jack Dabaghian was born in Beirut in 1961. Impassioned by 'the image' and photographic practices, by turns a major reporter, picture editor, Reuters Middle East Chief Photographer and fashion photographer, he has dedicated himself to journalism and the image for 38 years now.

Dabaghian has covered many conflicts: in Lebanon, Palestine, Iran, Iraq, Rwanda, Zaire and Algeria, and his images have been published in Newsweek, Time Magazine, Paris Match, The Economist, The International Herald Tribune and The New York Times to name but a few.

A desire to examine contemporary photographic practices and their artistic and conceptual tenor, has led him to engage since 2012 in a radically different approach, to which he is now wholly committed. His approach draws on the history of photographic technics to expound a powerfully evocative and oneiric opus, where photographic experimentation, old and alternative processes play a central role. Somewhere
between reality and illusion, his images question the mechanisms of representation and, through them, humankind's relationship with imagination, with the tangible world and its fragilities. Time, photosensitive matter, human and non-human living beings and the beauty and force of the elements cut across this new body of work with ambition and sensitivity.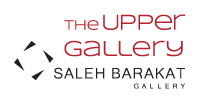 Jack Dabaghian
Sentinels
25 November - 25 December, 2021

Mazen Rifai
Recent Works
9 November - 4 Decemebr, 2021
Mazen Rifai
Mazen Rifai is a Beirut-based painter and architect born in Baalbeck, 1957. He holds a degree in interior architecture from the Lebanese University, Beirut and a degree in Fine Arts from the Academia de Macerta, Italy. He was a professor of fine arts and the head of its department at the Lebanese University from 1987 till 1993. Rifai is an art director at "Engineers, Consulting & Contracting", an engineering and architecture firm that has been open since 1990.
He has participated in numerous editions of Sursock Museum's Salon d'Automne starting in 1974. Since 1981, he has held several solo exhibitions in Beirut and Paris. These shows were displayed at Epreuve d'artiste, Galerie Rochane, Galerie Aida Cherfan, Gallery 6, and Agial Art Gallery, Galerie 34 Bonaparte, and Galerie Alex Menem.
In 1984, he contributed to the Beirut Central District Reconstruction Plan with Oger Liban. He is a member of the Baalbeck International Festival Committee.
Rifai has published two books: Baalbeck in Black and White with Dar Al-Nahar in 2007, Baalbeck 1981-2011 with Fine Arts Publishing in 2011.