EXHIBITIONS
Dia Al Azzawi
The work of pioneering Iraqi artist Dia al Azzawi slips easily between the chronological time of the museum and the timeless, the essential, the time of the dream. In the archaeological museums of Iraq where he worked for many years, creating timelines of Mesopotamian memory through curated objects, Azzawi pinned place to chronological time. His artworks, referencing a historical line that reaches back to the Sumerians, draws time together, refuting a break with ancient and modern worlds, seeing continuity rather than rupture, with local, regional, and Arab pasts.

Azzawi's work uses the fact of the museum, its archaeological, ethnographical attempts to structure the world, as a foil to bring this world back to the dream, memory, the slip between what is felt and what is known.


Over more than half a century, Dia al-Azzawi's work has been shown in countless group and solo exhibitions worldwide, especially in Europe and across the Arab world (including three retrospectives: Paris, 2001; Abu Dhabi, 2009; Doha, 2016–17). Best known as a colourist painter, Azzawi celebrates Arab culture in his work, blurring the boundaries between artforms and embracing new technologies. His eclectic works can be distinguished by their impressive scale (especially monumental paintings, sculptures and architectural design) and the amalgamation of images and the written word (including intricate works on paper, limited-edition prints and artist's books, which he has been making since the late 1960s). His work has featured in myriad publications and can be found in numerous public and private collections.

Dia Al Azzawi
False Witnesses
Postponed till December, 2023
Said Baalbaki
What quiet places, full of possibility

It has softness, the coal, not the silky softness of a child (we will return to the child) but dense, wild, and somehow mute, a softness that refuses speech, sound.

Baalbaki's coal structures are familiar if ambiguous. Neo-classical architecture melds with places of worship, old forms that creak and tug, slipping between the civic, philanthropic, religious. But it is the material that takes over, seizes the mind and pulls us into form, The joy of the attempt, the human in the world.

This work began in innocent instinct, the coal seen as children's blocks for building. Through play Baalbaki works his way deep into soft blackness and out into the adult world. From there, he renders what are perhaps the most adult of edifices, temple, church, mosque, museum, bank.

It's a work of faith, a reach for connection felt more than explained. In the softness of coal, its healing, velvet coat, and in our knowledge of its properties, its scarcity, its increasingly golden allegory, there is a contemplative moment, a reflection on what it is that drives us, what we really need.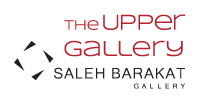 Said Baalbaki
Black Rock
3 August - 2 September, 2023

Hala Mouzannar
Si la matière pouvait parler
12 October - 18 November, 2023
Hala Mouzannar
Time slows in the pools of surface sheen, in neat and tiny crackles, in foil relief. The evidence of movement and the pace of that movement are embedded within each painting, a material time of reaction. Add one material to another and see how it acts, how it reacts with another, under, beside, on top. The knowledge of material is experiential, the many compounds understood through an accretive, processual understanding. Unexpected reactions exist in a tension with experience, the knowledge of what one thing will do when placed in relation with another. There is always an element of chance in life, on or off the canvas, and there is always experience, knowledge, practice. Hala Mounazzar takes both, expanding and ushering these realities onto the stage and putting them under lights. They shine there, the chances, the experiences. The eye moves again in the pools.



Born in Beirut in 1968, Hala Mouzannar came to the world of art after decades of experience in the creative industry. She worked as a media planner for Leo Burnett Beirut, as a media executive for Future Television, and as a director of acquisitions for Aïzone fashion department store.
In 2005, she co-founded Madame Rêve, a costume jewelry company and store where she also worked as a creative stylist. She shifted to a painting practice in 2015.
She holds a BA in Business Administration from the American University of Beirut (1989). She also earned, in 2021, an MFA in Visual Arts from Académie Libanaise des Beaux-Arts (ALBA) in Beirut.
Her solo exhibitions include La Chasse aux Papillons in Beirut at Agial Art Gallery and an exhibition in London. Her group exhibitions include Arthaus Gallery, Beirut Art Center, Maintain, La Maison Abandonnée and Green Cedars in Beirut.