EXHIBITIONS
Joseph El Hourany
Retrospective (1995-2020)
Joseph El Hourany

Using morphing and mutation tactics, my sculptures are not pretending to be a particular innovative aesthetic. It looks much more at the overall interplay between the initial idea/sketch and the used wood or material. In its abundance making, a procedural experimentation is the origin of the unpredictable forms. As such, experimentation in sculpture has nothing to do with neither composition nor style. In whichever creation process, it has to do with no‐finality, with the perpetual path to another form; it provokes what comes after, what appears, and what will be seen. It can spontaneously absorb additions, subtractions, and technical modifications, without disturbing its essential order.
Joseph El‐Hourany is an architect and urban planner who lives and works in Lebanon. He is also titular of two bachelors in philosophy and musicology. From 2006 till 2010, he conducted a doctoral research at MIT in cotutelle with UQAM about parametric design. Since 1999, Joseph is working on several architectural and urban planning projects; besides, he is teaching in different universities. He published "The Future Of The Past" with John Carswell in 2003, "Specimen 0" in 2010, "Specimen 1" in 2011, "Guvder" in 2012 and "Henri Edde architecte" in 2019. He participated in "Aley Symposium" (1999), and exhibited several versions of his "mind maps drawings" at LA CENTRALE (2007, 2008), UQAM (2008 ), Museum St‐Hilaire (2008), Stata Center (2009) and ALBA (2011).

Joseph El Hourany
Retrospective (1995-2020)
19 March - 15 May, 2021
Samar Mougharbel
Art de triomphe

"This whole body of work was made this year! After the October 17th Revolution, amidst the economic crisis and the corona virus pandemic, and more tragically after the 4th of August 2020 explosion.
It is the gravity, the distortion and the guts... the first time I feel the work extruding from me, and not wanting to stop flowing...
It is the flow-clay deciding to go its own way.
Am I, again, a witness?" -Samar Mougharbel
Samar Mogharbel (b. Beirut, 1958) is an artist whose practice is based in ceramics. She trained with the first modern ceramic artist in Lebanon, Dorothy Salhab Kazemi, before pursuing a postgraduate degree in ceramics at Goldsmith's College in London. An instructor of ceramics at the Lebanese American University since 1983, Mogharbel has also been involved in the postwar excavations of downtown Beirut, which has greatly influenced much of her subsequent work. Her solo shows include Without Traces (2015) and Interception (2011) at Agial Art Gallery, Beirut; Face Efface (1999) at Galerie Janine Rubeiz, Beirut; Beirut Blues (1998) at Millesgarden Museum, Stockholm. She has participated in group exhibitions in Argentina, China, Croatia, Egypt, France, Jordan, Lebanon, Malaysia, Turkey, the San Dominican Republic, and the United Arab Emirates. She has received several awards, including the Macsabal Competition Award; (2018); the Silver Plaque at Zagreb Clay Fest (2014); the Teapot Art Prize, China (2010); the first prize at Salon d'Automne, Sursock Museum (2006); and a special mention at Salon d'Automne, Sursock Museum (1998). Since 2019, she is a member of International Academy of Ceramics.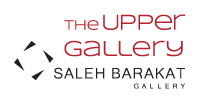 Samar Mougharbel
Art de triomphe
11 December, 2020 - 16 January, 2021

Hala Mouzannar
La chasse aux papillons
20 May - 14 June, 2021
Hala Mouzannar
Hala Mouzannar gives prominence in her work to the materiality, and vicissitudes, of the flesh. She dwells on the material surface of her canvases, creating tears, crusts, and chutes from the manipulation of a mélange of stone powder, silicon, latex, gauze, and oils. The formation of differently textured surfaces, in a range of exuberant and at times corporeal colors, invokes in the viewer visceral bodily sensations of both (interested) pleasure and perturbation.
Born in Beirut in 1968, Hala Mouzannar came to the world of art after decades of experience in the creative industry. She worked as a Media Planner for Leo Burnett Beirut, as a Media Executive for Future Television, and as a director of acquisitions for Aïzone. In 2005, she founded Madame Rêve, a costume jewelry store and company where she also worked as a creative stylist. She shifted to a painting practice in 2015. She holds a BA in Business Administration from the American University of Beirut and has recently earned an MFA in the Visual Arts from Académie Libanaise des Beaux-Arts. Her group exhibitions include La Maison Abandonée (2021), Arthaus Gallery (2021), and Green Cedars at the French Embassy in Beirut (2020). La Chasse aux Papillons is her first solo exhibition.