EXHIBITIONS
Hiya
Hiya is an exhibition of giclée prints by artists Hussein Madi, Samir Sayegh and Mohammad El Rawas.

Giclée Printing Process
The word Giclée comes from the French word for "to spray" and refers to the process of making fine art prints from a digital source using a high-quality inkjet printer. It connotes an elevation in printmaking technology and requires proper training and years of experience to perfect.
Images are generated from high-resolution digital camera or scan and printed with archival quality pigments onto various archival quality substrates, including canvas, fine art, and photo-base paper.
The Giclée printing process provides better color accuracy than other means of reproduction and are capable of producing incredibly detailed prints for the reproduction of conventional fine art, photography, and digital art, keeping all the tonalities and hues of the original piece. As such, images reproduced using the Giclée process are used in museums, libraries, and historical databases, and many Giclée prints can be found on display at the world's leading museums, including the Louvre, the Metropolitan Museum of Art, and the Guggenheim.

Giclée printing allows for the ability to create large formats of almost any scale, while remaining highly faithful to the original copy. It is also estimated that Giclée prints can remain colorfast for 200 years or more.
The Giclée process is ideal for artists who want to create a limited number of reproductions with a superb quality print.

Hiya
4 March - 7 May, 2022
Jack Dabaghian
The Upper Gallery invites you to discover "Sentinels", a wet plate collodion photo exhibition and book launch by Jack Dabaghian on Thursday November 25, 2021 4:00-7:00pm.

Jack Dabaghian was born in Beirut in 1961. Impassioned by 'the image' and photographic practices, by turns a major reporter, picture editor, Reuters Middle East Chief Photographer and fashion photographer, he has dedicated himself to journalism and the image for 38 years now.

Dabaghian has covered many conflicts: in Lebanon, Palestine, Iran, Iraq, Rwanda, Zaire and Algeria, and his images have been published in Newsweek, Time Magazine, Paris Match, The Economist, The International Herald Tribune and The New York Times to name but a few.

A desire to examine contemporary photographic practices and their artistic and conceptual tenor, has led him to engage since 2012 in a radically different approach, to which he is now wholly committed. His approach draws on the history of photographic technics to expound a powerfully evocative and oneiric opus, where photographic experimentation, old and alternative processes play a central role. Somewhere
between reality and illusion, his images question the mechanisms of representation and, through them, humankind's relationship with imagination, with the tangible world and its fragilities. Time, photosensitive matter, human and non-human living beings and the beauty and force of the elements cut across this new body of work with ambition and sensitivity.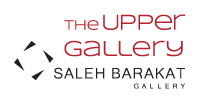 Jack Dabaghian
Sentinels
25 November - 25 December, 2021

Group Exhibition
Works on paper
24 March - 7 May, 2022
Group Exhibition
Agial Art Gallery invites you to the opening of a group exhibition on Thursday, March 24 at 4:00pm.

This exhibition sheds light on the medium of works on paper, seldom inappropriately not given the importance it deserves amongst collectors. The exhibited selection for different artists comprises works on paper spanning 5 decades and different techniques like watercolors, charcoal, etchings and collages.