EXHIBITIONS
Tarek Alkassouf
The Future is Near displays the quest for adaptation that is grief, as a journey through art. Exploring a human's most intimate, primal, yet complex, reply to loss. The exhibition lives, and grieves, in Beirut. But the exhibition reflects life, the ongoing death, loss, trauma, instability and threats that happen daily across the world; at least one will affect everyone on the planet at some point.
The 50-piece body of work takes the observer through the five stages of grief; a grief which is expressed with a realist optimism.

"Beirut has not been the same in the past few years. Wounded. Frozen. The old way disintegrated, but there was no path back to the same.
Instead of people sharing dreams of a flourishing country, first, they needed to share the collective trauma.
This exhibition is a call.
This exhibition is a realistic call for optimism.
A call for a journey inwards. Where the change starts. The art explores the collective through the individual; and illuminates the emotional pathway that leads from distress.
Your invitation into grief is open." -Tarek Alkassouf

Tarek Elkassouf is an artist based between Beirut and Sydney.
Elkassouf's art is about the dialogue between the sound of the machine and the silence of the man, practicing an ancient craft, when he finishes the piece.

'What fascinates me the most is the exploration of loss and trauma.
The concept of balance after loss. I feel there is an emptiness, a void there. We can understand the concept of emptiness, through what is not there; the empty, and its exchange with the full.
It is the space between the words. Or the silence in the music which is as important as the notes themselves. The space between two worlds.'

Elkassouf's work has been commissioned by international museums such as the Institute of the Arab World in France, and Ithra in Saudi Arabia. And it has been added to the inalienable collections of the museums of France.

Tarek Alkassouf
The Future is Near
15 June - 29 July, 2023
Jack Dabaghian
Moria

Jack Dabaghian and Shawky Youssef weave together a dialogue that finds completion in the other's work. An Ariane thread beginning from Dabaghian's 19th century wet plate collodion photography summons Youssef's calligraphy, his knife, inks, paint and coffee.
The photographic prints, along with their metal plates are products of slow, patient and laborious work. The process leaves space for chance operations that intervene in the final singular composition. Arresting organic forms within all of its ominous sublimity, the olive tree stands as an emblem of peace in an anguished country.

Since 2018 and in the face of ever more alarming ecological crises, Dabaghian has undertaken a meticulous exploration of the mountains of Lebanon to find and photograph olive trees, cedars of Lebanon, juniper trees and oak trees. Dabaghian's oeuvre delineates an epic exploration that has turned into an inventory and an artistic tribute to the mythic and oeniric in nature.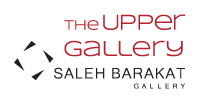 Jack Dabaghian
Moria
4 May - 3 June, 2023

Vanessa Gemayel
Other Worlds....
8 June - 8 July 2023
Vanessa Gemayel
Other Worlds...

The paintings of Vanessa Gemayel are visual representations of her auditory world, electronic music that is emotionally resonant, full of distortion and familiarity. Her paintings are a direct and unmediated ekphrasis, a movement or description between one artistic form and another, auditory to visual, sound to painting. While clearly informed by sound, Gemayel's paintings equally exist on their own visual terms, transforming their source and making of it a visual sense, relatable for a world of tangible things. In this world, colour, shape and line, distance and depth, are delineated by the boundaries and possibilities of the visual world. Yet, Gemayel retains a connection to the freedom of sound, its spatial wandering.
Vanessa Gemayel is a Lebanese American painter, writer, and DJ. She was born in Paris in 1985 and is currently based in Beirut. Gemayel has 6 solo exhibitions to her name, her first taking place at Artlab in 2013. She has participated in numerous group shows. One of her works appears in the J. D. Jacquemond collection at the Anatole Jakovsky Museum in Nice. Her work appeared at the Outsider Art Biennale in Lyon, 2011's New Talents, International Art Exhibition by Artists of the Lebanese Diaspora. In 2009 Gemayel's art was displayed at the city/country that was often the subject of her work; Lebanon's Salon d'Automne. In 2021, her most recent piece of writing "La chanteuse bleue" was published in the book "Le Cirque", featured alongside the drawings of Dominique le Tricoteur.

Gemayel paints with direct intensity. Her work captures Lebanon's urban landscape and all the different textures and colours which inhabit it. Art historian Jean-Dominique Jacquemond has described Gemayel's colouration as 'luminous'. The artist paints in the composite perspective; compiling several 1st person perspectives onto one image and tackling the simultaneous flatness and depth of the medium of painting.