EXHIBITIONS
Katya Traboulsi
Always seen and never contemplated, Traboulsi's work arrests and represents the aesthetic practices that tie the North with the rest of Lebanon encapsulated in the vernacular formalisms and conventions of the Lebanese pick-up truck. Rej3a Ya Mama tethers themes of solidarity, difference, group identification, superstition, love, and the afterlife.

Traboulsi resuscitates the contradictions, complexities, and beauty of the ornament along with the graphic and typographic work adorning the backs and fronts of Lebanese trucks circulating across multiple geographies within and around Lebanon. Sharp, saturated colors gild phrases and symbols, reifying the image of their author. Inspired by the geographical differences between the Lebanese trucks and their aesthetics, Traboulsi's iron works are an homage to Tripoli, revealing and transmitting images of her own informed by the cultural practices of the North. Abstracted floral gilds and birds inspired by cultural images coalesce with Khatt (calligraphy) proclaiming the advance of the heavens, thwarting the other's envious gaze and ill will, calling for the mother or the nation.


Born in 1960, Katya Traboulsi is a Beirut-based multimedia artist. Her practice is characterized by the emotional intensity with which she confronts national and other social and cultural identifications within the context of the Lebanese civil war and its aftermath. Both her painting and sculptural works are characterized by her bold use of colour, which disrupts the viewer's expectations of the subject matter they are confronted with. Traboulsi lived and worked in Dubaï from 1989 till 2016 before returning to her native Beirut. Her work has been exhibited internationally since 1986 in Paris, London, Dubai, Kuwait, North America, the Algerian museum of Modern Art, and the International Armory Show in NYC.



Katya Traboulsi
Rej3a Ya Mama
10 March - 15 April, 2023
Hiba Kalache
At once ethereal, bodily and scriptural, Kalache's work reveals tensions between formlessness and familiar images. Canvas and paper are marked with vivid color estranging Kalache's intimate world. The works together form a constellation of conversations, inspirations and parallel struggles, reaching beyond their own spaces onto that of Youmna Chlala's poetic pieces and Etel Adnan's written works.

Hiba Kalache was born in Beirut, and now lives in California. She has recently participated in FOG fair with Altman Siegle gallery in San Francisco. Her solo shows include Our Dreams are a Second Life (2020), and Lemonade Everything Was So Infinite (2018), at Saleh Barakat Gallery, Beirut, Lebanon. Group exhibitions include Institut du Monde Arabe, Paris, France; Villa Romana, Florence, Italy; Beit Beirut Museum, Rose and Shaheen Saleeby Museum, Beirut, Lebanon; Newcomb Art Museum at Tulane University, New Orleans, LA; The Boghossian Foundation, Brussels, Belgium; and the San Jose Museum of Art, San Jose, CA.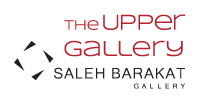 Hiba Kalache
It's an ancient game 
what a poor game!
17 February - 18 March, 2023

Alaa Sharabi
Out of the Box
21 February - 25 March, 2023
Alaa Sharabi
In this most recent body of work, Alaa Sharabi encourages us to step out of the parameters of our known world, to immerse ourselves in multitudinal others.

Through his strong yet unstable, infinitely layered and mutable cube-like forms, unorthodox materials and turning of geometry on its head, Sharabi gives us a dense vocabulary of tools to describe a push against.

In this significant foray into a more abstract representational modality, Sharabi leaves the comfort of figuration, paring his practice to its simplest form. And it is here, in this most essential and unfettered self, that the architecture of his work perhaps speaks most clearly. Catch me and I'm gone, these works repeat, the houses of our bodies, minds, countries, are also fleeting. These works ask to be navigated, then they refuse.

Distance and perspective, background and foreground, exist in Sharabi's work to show the closeness, nearness and interconnectedness, of things. Energy confounds distance, brings us in. The perspective might begin at a fixed distance, but everything moves.
Alaa Sharabi was born in Damascus, Syria in 1988 and now lives and works in Sharjah, UAE. His work explores connections between painting and printmaking, evoking aspects of the human condition through an exploration of line, layers and innovative technique. His exhibition at Saleh Barakat's Agial Gallery in Beirut, Lebanon, is the first to show his geometric works, which employ a unique process of black ink and sugar applied directly onto canvas. His material innovations are mirrored in his approach to surface, form and line, and his works delicately balance rule and chaos, known and unknown.

Sharabi holds an undergraduate and a masters degree in printmaking from Damascus University, Syria, where he was also employed as a printmaking assistant. Since 2018 he has been working at Sharjah Art Foundation and teaching printmaking in Sharjah Art Institute.

In 2015 he held his first solo exhibition in Beirut, Lebanon and in 2019 showed as part of a duo exhibition in Jordan. He has participated in numerous group exhibitions and art fairs in his native Syria and across the middle east, as well as in Europe and the wider world.