EXHIBITIONS
Azza Abo Rabieh
Yearning embodies the conflicting being navigating in time and space. In perpetual motion, one comes to be through constant phenomenological transformations. In her multi-media exhibited works, Azza Abo Rebieh deconstructs the struggles of the being, "that is the rhythm of the flutter of her wings give and take, make the path of her movements like a heartbeat and its eagerness, yearning, thirsty, to do everything and nothing…" Through her words and works of art, Abo Rebieh dismantles and reconnects the parts of one's being. In this current exhibition Abo Rebieh puts on display a myriad of sketches, prints, paintings and watercolor, unveiling the transformability of the body by means of artistic endeavors.

Syrian artist Azza Abo Rebieh (1980) obtained her degree in printmaking from the Faculty of Arts and Sciences at Damascus University in 2002. Primarily interested in etching and engraving, Abo Rebieh extends her work to an array of other media and materials, including watercolors, threads, and tulle on canvas, Ink painting, and printing on leather. She has won three awards and participated in more than fifteen group exhibitions. In 2018 and 2019, Abo Rebieh held her first solo exhibitions at 392 Rmeil, managed and curated by Nelsy Massoud. Her works "The Boot," "Accused of Homosexuality," and "Still Singing" became part of the British Museum collection in 2014. Following an online art residency
organized by Coculture and Ettijahat & Martin Roth Initiative, Germany (2021), an art residency for one month under Artist Protection Fund fellow in the Bogliasco Foundation, Italy (2020), and the last residency of four months under Artist Protection Fund fellow in the American Academy in Rome, Italy (2019-2020), Abo Rebieh returns to Beirut with her show Yearning (2022) at the Saleh Barakat Gallery.




Azza Abo Rabieh
توْق
3 June - 23 July 2022
Nelsy Massoud
Nelsy Massoud's sculpture titled Metamorphosis expands on the transformative aspect of the being. Existence is performative and metamorphic, entailing a constant assertion of the being through the mutability of the self. Similarly, "caterpillars turn into butterflies," or when "materials take new forms," the structural loofahs bare new life forms. Metamorphosis is showing at the Saleh Barakat Gallery upper floor.

Born and raised in Lebanon in 1957, Nelsy Massoud first moved to Ivory Coast for four years before residing in New York for 23 years, where she learned glass mosaic and became the assistant of a master mosaicist Val. After a few open house exhibitions in New York, Massoud moved to Montreal, where she opened a gallery and workshop of mosaic for students, before coming back to Beirut in 20005. For five years, she was a manager and curator at 392 Rmeil 393 gallery in Beirut. In her exploration of various media, such as sand, polythene or glass, Massoud found a particular interest in the intertwining of light and colors in loofahs.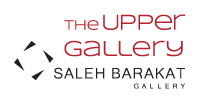 Nelsy Massoud
Metamorphosis
3 June - 23 July 2022

Geraldine Blache
Minerals
21 June - 8 July, 2022
Geraldine Blache
Whether it is thought to have fallen from the skies or extracted from the abyss of the earth, the forgotten beauty of metal is quite valuable.
Géraldine's works of art are a constant invitation to halt. The constituent elements of her works propose a unique essence inspired by her maritime navigations.
Captivated by the characteristics of ore, she goes on an experimental exploration of textures, colors, contrasts, forms and reflections within the walls of her workshop in Beirut. Thus, these minerals, entice to venture on mesmerizing discoveries of myriad aspects related to them.
Originally from the Drôme, it is in the French southern town of Sète where she discovered the work of Pierre Soulages, her ultimate inspiration.

39 years old Géraldine Blache offers the vulnerability, fragility, and rawness of the mineral material in her works, stimulated by her understanding of the notion of time and natural transformations. After having settled in Lebanon in 2012, she has been actively creating and engaging with her preferred material.