Joseph El Hourany
Retrospective (1995-2020)
Joseph El Hourany

Using morphing and mutation tactics, my sculptures are not pretending to be a particular innovative aesthetic. It looks much more at the overall interplay between the initial idea/sketch and the used wood or material. In its abundance making, a procedural experimentation is the origin of the unpredictable forms. As such, experimentation in sculpture has nothing to do with neither composition nor style. In whichever creation process, it has to do with no‐finality, with the perpetual path to another form; it provokes what comes after, what appears, and what will be seen. It can spontaneously absorb additions, subtractions, and technical modifications, without disturbing its essential order.
Joseph El‐Hourany is an architect and urban planner who lives and works in Lebanon. He is also titular of two bachelors in philosophy and musicology. From 2006 till 2010, he conducted a doctoral research at MIT in cotutelle with UQAM about parametric design. Since 1999, Joseph is working on several architectural and urban planning projects; besides, he is teaching in different universities. He published "The Future Of The Past" with John Carswell in 2003, "Specimen 0" in 2010, "Specimen 1" in 2011, "Guvder" in 2012 and "Henri Edde architecte" in 2019. He participated in "Aley Symposium" (1999), and exhibited several versions of his "mind maps drawings" at LA CENTRALE (2007, 2008), UQAM (2008 ), Museum St‐Hilaire (2008), Stata Center (2009) and ALBA (2011).

Joseph El Hourany
Retrospective (1995-2020)
19 March - 15 May, 2021
Souraya Haddad Credoz
Chimera – Remembrance of a Blooming Mind

We enter this exhibition as we would enter a dream peopled by beings of strange ancestry. Their presence bears witness to alchemical tales and it murmurs the charred secrets of a land marked by a great nocturnal sun.

The ceramics of Souraya Haddad Credoz are to be read as creatures born of a universe dormant within us, an environment both familiar and not yet formed. Open to individual readings and interpretations, they offer the possibility of symbiotic futures, promising a history, a temperament, a role, all born of a desire for worlds reinvented.
These creatures, both organic and mineral, make short shrift of what is natural, baroque and artificial. These pieces are representational only in so far as they transfigure possible realities and induce visionary impressions. The play of their presence indeed triggers the imagination, leading deep into the subconscious mind and the images it projects.
The artistic gesture of the ceramicist is engendered by a return to things past.
A return to that conflagration that destroys in order to exist in sharp fragments, penetrating the skin and the psyche. Confronting what remains in shreds and fragments, the hands of Souraya Haddad Credoz shape essential, primary forms. Not quite spherical, they are clearly anatomical. With reconstructive, therapeutic gestures, the ceramicist gathers together what is no longer as it was, and has not yet become something else. Going beyond that embryonic limbo, she instills colour and leaves the body, roughly shaped and then polished, to the creative force of the elements.

And the Chimeras within us continue their rounds, walking the earth, inhabited by fantastic darkness, embraced by the colours of survival. Between fire and water, they recount something of the forms of life and intimate explosions, of the earth in flames, but also of hands that caress. And within the unreachable secret of things in movement, they wish to retain their mystery, but then to call out, like a spell, to the living, to solicitude, and then serenity. - Clémence Cottard Hachem (translation PR 3 06 2021)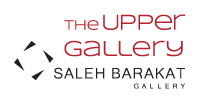 Souraya Haddad Credoz
Chimera - Remembrance of a Blooming Mind
11 June - 31 July, 2021