Afaf Zurayk
In this most recent body of work, Afaf Zurayk invites us to join her in a cathartic journey of painting, poetic prose, and poetry. The journey mirrors the history of a city and of a generation that have borne the brunt of tragic events for decades, most poignantly epitomized in the horrific Beirut port blast of August 4, 2020. Through a narration of being and of witnessing, her art describes the conquest of trust, faith, and resilience over disappointment, alienation, and misfortune.

By far Zurayk's most ambitious project to date, her poetic narrative brilliantly flows from the personal into the generational and geographic as well as the timeless and the global. She paints a sensitive transformation from the earthly to the ethereal: "You are artists. You change pasts and form futures. You can move forward. It is all in the tilling, not in the trees." 

The exhibit is designed in the shape of an octagon, historically a symbol for renewal, rebirth, regeneration, and transition. It is laid out across eight distinct rooms, each featuring a chapter from "Beirut Octet: A Generation's Journey of Resilience & Faith" as well as its relevant art work.

Afaf Zurayk is a painter, poet, and writer. With sensuality, transparency, and honesty, her work reflects her experience of the turbulent times of her generation. She is a seeker, not a finder, conveying in her painting and writing the questionings and upheavals of her time, constantly on a quest for an understanding of eternal human values and aspirations.

As a student of art and art history, Afaf was particularly influenced by the penetrating vision of Rembrandt, the inner necessity of Kandinsky, and the obsession of Morandi. She continues to be greatly affected by the light and the ephemeral qualities of Islamic architecture. Further, the art
and lives of Dorothy Salhab Kazemi, Helen El Khal, and Huguette Caland remain legacies that are as formative as they are inspiring.

Afaf's painting employs minimal color palettes that stretch expression to its limits, often using white, grey, and black to inspire the presence of color through its absence. Ever seeking transparency in her art, she uncovers raw emotion and paints the color of light. In her most recent paintings, fluctuations of white tones and brushstrokes invite the passage of time through lived realities and imagined dreams. A published author, her books, like her paintings, express, in sequence and rhythm, her faith in love as a bridge towards transcendence.



Afaf Zurayk
Beirut Octet
11 January - 25 February, 2023
Nicole Bouldoukian
This series of palm trees is part of a set of drawings of trees in which I aim to present species in danger of extinction, often victims of predatory insects, an indirect consequence of climate change.
I love palm trees for their majesty, natural elegance, flexibility, and resistance to the elements.
With Indian ink pens on paper, I draw these trees from pictures I have affectionately taken, transcribing my vision of reality as I sense it. This work immortalizes the Palm trees as they descend into extinction.
Somehow, representing the trees saves them from their predicament, even if for a finite yet indeterminate time.

Nicole Berjon Bouldoukian is an artist working in France and Lebanon. She has exhibited her work in both countries, including the Epreuve D'Artistes Gallery. A native of Lozère, France, she was first drawn to Lebanon in an exhibition while studying literature in Montpellier. She has remained in Lebanon for 50 years now, where she has become a mother and grandmother. Her work relies primarily on painting, drawing, and copper enamels, stoneware, bronze, and resin. Her practice takes up themes of fauna, La Fontaine Fables, human relations, and numerous others. Currently, she is interested in extinction and environmental deterioration.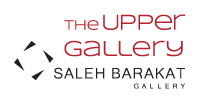 Nicole Bouldoukian
Comme une oasis… En noir et blanc
19 January - 10 February, 2023